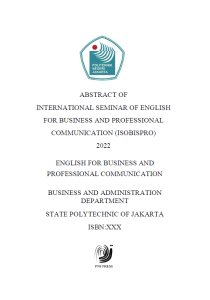 INTERNATIONAL SEMINAR OF ENGLISH FOR BUSINESS AND PROFESSIONAL COMMUNICATION
2022
Editorial Board:
Dr. Supriatnoko, M.Hum.
Dr. Drs. Ina Sukaesih, Dipl.TESOL., M.M., M.Hum.
Tantri Sari Safitry, S.Pd., M.Pd.
Linda Sari Wulandari, S.Hum., M.Hum.
Taufik Nur Hidayat, S.Pd., M.Hum.
Amalina Shomami, S.Pd., M.Hum.
This seminar has been formulated from Seminar Nasional Linguistik 2021 to the 1st International conference 2022 hosted by English for Business and Professional Communication Study Program, Department of Business Administration, Politeknik Negeri Jakarta.
It is such bold honor for us able to warmly welcome keynote speakers, presenters, and participants from many domestic and overseas countries: Indonesia, Thailand, China, and Australia, to join this event.