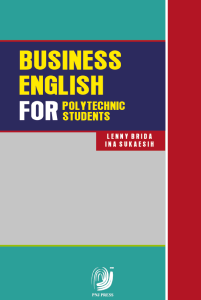 Business English For Polytechnic Students
Penulis: Dra. Lenny Brida, Dipl.TESOL., M.Psi., M.Hum, Dra. Ina Sukaesih, M.M., M.Hum
Editor: Nunung Martina
Penyunting : Dimas Surya Perdana
Desain sampul : Arwiyandilla Gesja Supriyan
ISBN: 978-623-7342-14-4
Halaman: 144 halaman
This book is primary for student of Polytechnic, Business Administration Department. The students we have in mind as our classes are the fourth semester students who already use English in their studies, but need to check it out and develop it. This book is, therefore, intended as both a reference book and a practical guide, because it is written based on the syllabus design.
In designing this book we have tried to address two concerns of this students Group; firstly, the need to develop language knowledge, and secondly, the need to Develop communicative skills. We recognize that there are significant overlaps between these two areas, but we believe it is useful to view them separately so that they can be successfully integrated into the total performance. After all, this should be the purpose of language teaching; the total performance that combines accurate language use with effective communicative techniques.
The primary goal of Business English I is to provide language practice based on specific subject, that is business concept. Therefore, the main objectives of the text are:
• To provide practice in comprehending written business discourse and developing reading skills.
• To present business vocabulary through contextualization at both the sentences and paragraph level.
• To present high interest situation, based on actual business applications and oral communication.
• To prove activities for general language practice and improvement of study skills
This student book is made of ten chapters, and each chapter provides
x
the competencies of the learning outcomes, taken from English Syllabus of Semester IV. Each Chapter has various topics and exercises, which are done individually or groups.